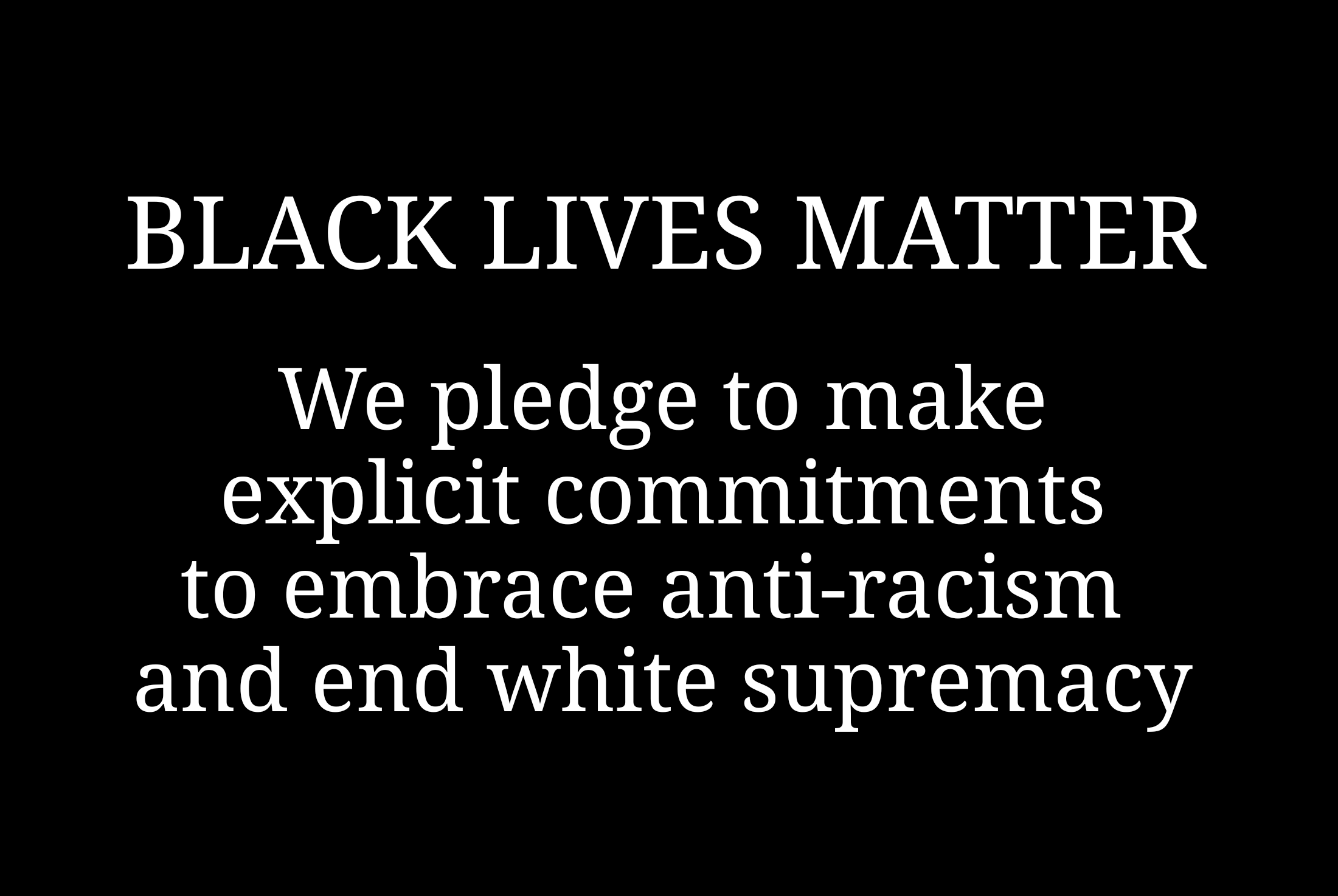 Awf Magazine unites with a multitude of LGBTQ organizations to combat racial violence. We proudly say #BlackLivesMatter and commit ourselves to the action those words require.
When we sign this petition, we pledge to make "explicit commitments to embrace anti-racism and end white supremacy, not as necessary corollaries to our mission, but as integral to the objective of full equality for LGBTQ+ people."
Our hearts are heavy from anti-black murders at the hands of police, including Tony McDade, a Black transgender man killed May 27th in Tallahassee, Florida. His death is believed to be at least the 12th violent death of a transgender or gender non-conforming person this year in the U.S.
"Black people, LGBTQ people, and especially all LGBTQ people of color are at greater risk for violence every day in this country. This must end. Our hearts are heavy as we mourn with Tony's family and friends," said Tori Cooper, director of community engagement for the Transgender Justice Initiative.
These everyday incidents of egregious violence remind us why we must all speak out when hate, violence, and systemic racism claim Black lives. However, we must also remain vigilant against the non-violent forms of white supremacy that surround us.
Awf Magazine has set specific and achievable goals that we promise to center in our work as we continue to promote racial justice and lift up all queer voices:
Our next application process will prioritize a diverse writing staff to improve the presence of different identities and cultures in the writing we publish. This includes Black, Indigenous, Asian and Pacific Islander, Latinx, and Middle Eastern writers as well as writers of all genders, sexualities, nationalities, religions, abilities, and HIV/AIDS status.
We will be proactive to ensure our outreach makes our applications accessible to all individuals to create equity in the process of expanding our team of writers and contributors. This includes asking for diverse recommendations from within Awf Magazine and reaching out to diverse organizations such as Historically Black Colleges and Universities, minority journalist unions and anti-racist queer writer groups.
We will include more diverse perspectives when reviewing new contributor applications.
Our editorial process will be further decentralized to better include diverse perspectives when choosing which headlines and topics are selected to be published. We will also implement better transparency with the writing staff which headlines do not advance to final consideration to help account for implicit biases.
We will be diligent in our editorial process to ensure our published content is funny and enjoyable for all readers. This will be implemented by continuing to ask what is the actual satirical target of each piece we plan to publish, if it is punching down at any marginalized group, and if there is opportunity to make the featured graphic representative of our diverse queer community.
We will provide a safe and supportive environment for each writer to share their voice and passion with the publication regardless of how they choose to identify. This includes continuing to remind our team members of our anonymous submission form for submitting concerns, complaints, and instances of bias in their Awf Magazine experiences. These anonymous submissions will be reviewed bi-weekly.
We will to work toward these goals immediately with clear and achievable actions for the rest of the year. We will formally evaluate our commitments and their impact in January 2021 and continue to mindfully approach our future commitments to equitablity and justice.
Additionally, Awf Magazine has donated $1,380.00, proudly provided by our editors, writers and contributors, to support The National Black Justice Coalition. NBJC is a civil rights organization "dedicated to the empowerment of Black lesbian, gay, bisexual, transgender, queer and same gender loving (LGBTQ/SGL) people, including people living with HIV/AIDS."
As one of the many ways to show support, we invite you to also give to The National Black Justice Coalition. Each donation is "essential to building a world where Black LGBTQ+ individuals and their families can live life free from homophobia and racism."
We invite other queer organizations to sign this petition and recognize we cannot remain neutral, nor will awareness substitute for action. We also invite our readers to get involved by engaging with a list of bail funds, anti-racist organizations, petitions, book lists, and black owned businesses listed below.
Below are a List of Bail Funds, Anti-Racist Organizations, Petitions, Book Lists, & Black Owned Businesses.
Click on a Name to Get Involved!